Working as a farm hand at my friend's farm last week brought out the picture book in me. Daily I would be reminded of the dialogue, plot, or illustrations of farm-themed picture books. It occurred to me that perhaps it is possible to speak 'picture book'. Does thinking in 'picture book' mean fluency in some strange children's librarian literary language? I'm not certain.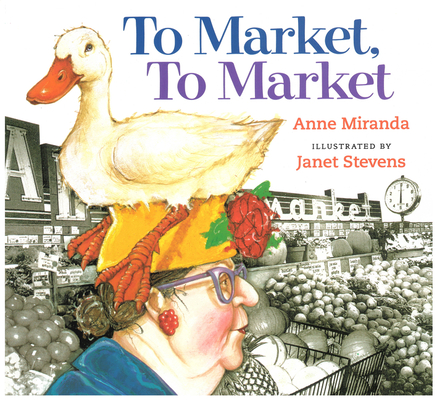 Take, for example, the morning that my friend and I were fixing the door to the chook house where the layer chickens live safely from predators. While drilling a hole for the new latch I felt something attacking my shorts. Alas, it was a goat chewing on the pocket buttons. Immediately I thought of To Market, To Market by Anne Miranda and illustrated by Janet Stevens. A shopper goes to market and all the animals she brings home create havoc in her home, including a goat with an appetite.
On my first full day at the farm there was a tornado warning that spurred a flurry of activity. Most importantly, we had to secure the animals. With palpitating heart I worked through the chores thinking about Otis and the Tornado by Loren Long. Otis, the little red tractor, leads all the farm animals, even the bully of a bull, to safety when a tornado hits the farm. We were extremely lucky that the tornado passed around the farm. Unfortunately, it did hit surrounding towns.
Visiting the large pet pig on the farm is a daily treat. She is enormous, friendly, and very polite at mealtime. When the sun heated up and the days became steamy, this pig would lay in a massive mud puddle. Oh, how I smiled thinking about The Pig in the Pond by Martin Waddell. One of my favorite stories! If you are familiar with the story, you will be glad to know that NO, I did not remove my clothes and jump into the puddle beside the pig!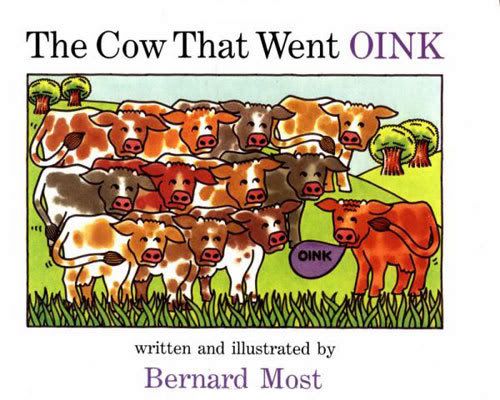 Bernard Most's cow stories, The Cow That Went OINK and Cock-A-Doodle-Moo! are story time favorites that played over and over again in my imagination as I watched the cows on the farm. The cows at this farm do not speak anything except cow. Moooooooo!
The dogs. Oh how I love the dogs on this farm. Again, I think of the Stevens sisters, and their book Find a Cow Now! The farm dogs love to herd the animals (any animals). They also love to play fetch and I am talking about serious games of fetch. Neither of the dogs is as destructive as the black pup in Chewy Louie by Howie Schneider, but I thought of Chewy Louie because of the intensity of the farm dogs and their determination to play fetch constantly. Chewy Louie is one focused dog.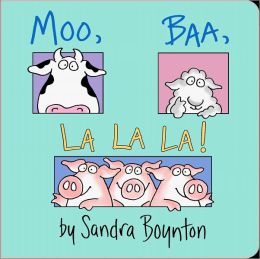 Other books that paraded through my thoughts while at the farm were Margaret Wise Brown's Big Red Barn illustrated by Felicia Bond, Big Fat Hen by Keith Baker, Moo, Baa, La La La by the amazing Sandra Boynton, and Click, Clack, Moo, Cows that Type by Doreen Cronin and Betsy Lewin.
Not only did I find my mind to be a festival of picture books related to the farm, I found myself thinking "that would make a great picture book story!" When one of the dogs was herding the guinea hens that roam the farm I was ready to start writing. However, I was in the vegetable garden and my hands were covered in mud and holding a spade. There was also story potential when I saw a goat lying peacefully in a little red wagon or when it was pouring rain and the dogs were like wet mops. At feeding time a chicken flew up and on to my friend's back, hoping to get its share of the feed first. And when we were repairing a gate and one of the many farm cats climbed up onto this same friend's shoulders and then on top of her head, I could have written that cat's tail (tale).
There were stories to be found in almost every minute of the farm day.
Do you speak picture book?  Do you think in picture books?
Do you have a favorite farm animal picture book?